LED Bus Stop Display GPS
Compact & robust design

1,000 Messages

Wide Viewing Angle

Integrated Control Unit
Product Description:
LED Bus Stop Display have different sign sizes of any passenger information sign supplier in the public transport market. Bus stop announcer and display work through the GPS, which enables the switc
Key Features
• Aluminum housing to minimize weight while ensuring a solid construction
• Flat design reduces the external dimensions to a minimum
• UV protection
• Viewing angle of approximately 110 degree to optimist and liability
• Capable of multi line display and graphics import
• Reduce life cycle cost
• Maintenance Fee
Solution A:
GPS automatic bus stop announcer(EL-S300) + LED displays(front, side, rear and
internal)
When many displays are needed in a bus (front, side, rear, external), it is better to choose this
solution. In this case, bus stop announcer and display work through the GPS, which enables the
switching of messages on displays and broadcasts to be automatic. Besides, it will relieve the
burden of drivers and lower the risks of traffic accidents. For this solution, an microphone is
available, through which drivers broadcast.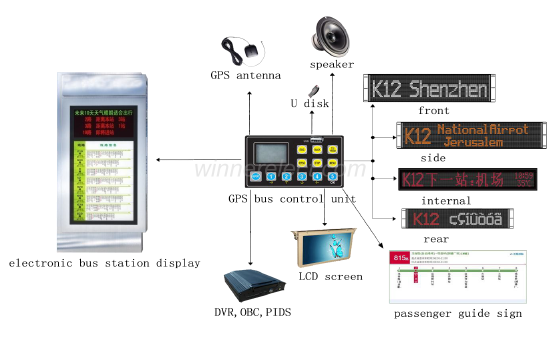 Solution B:
Manual bus stop announcer(EL-S200)+LED display
Compared to GPS automatic bus stop announcer, manual bus stop announcer is small, which
makes the costs lower. It can be easily installed and embedded on buses. LED displays can be
connected to the announcer in the same way as in solution A. But there is no GPS and voice
announcing function for this solution. So when the bus comes to a destination, the driver need to
press buttons to announce the station name.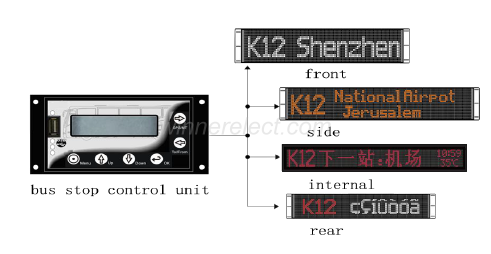 Solution C:
GPS Vehicle scheduling system + LED display
Nowadays there are GPS tracker and DVR on most of buses, through RS232 & RS485, our LED
display can be connected with those devices. The display carries its own font library and it is
controlled by DVR system. ASCII nuicode and GB code is available for the display. Our display
succeed to work with system of Hisense and system of Lenz.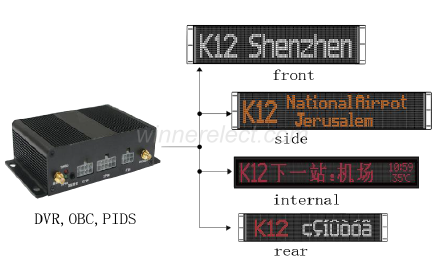 Solution D:
When the display is just as a route reminder, such as K312 Shenzhen→Zhuhai, it will be a good
solution for you. The message can be updated by U disk, and contents on display can be switched
by pressing the buttons(UP, DOWN, RESET). It is easy to install and operate.

Installation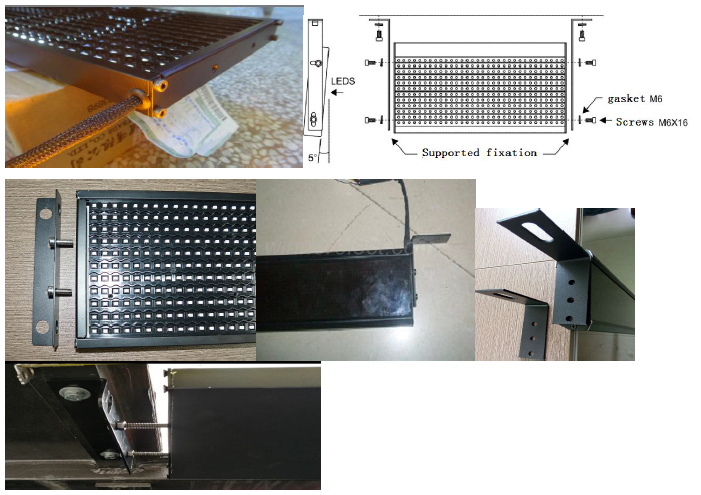 Bus Stop Announcer
Item

Size

Picture

BSA-S300

GPS auto bus stop announcer with

LED display control system

130mm x 105mm x 50mm




BSA-S200

Manual bus stop announcer

132mm x 67mm x 28mm